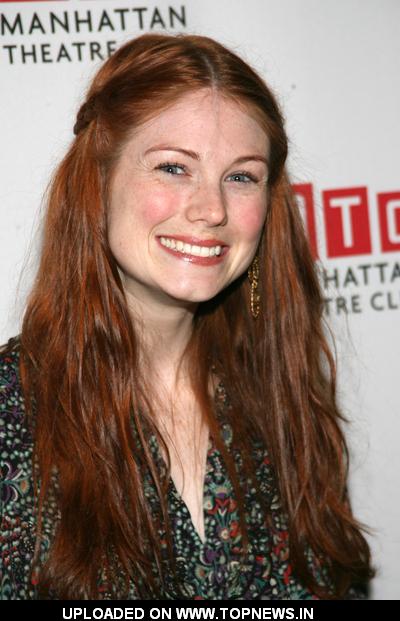 Wilkommen
. So it's today.
Yessiree
, Allison Case is finally making a triumphant return to the stage of the
Hirschfeld
Theatre, after over a month of absence. Hooray for her. Perhaps this means I shall soon find myself at Hair once again. First on my list right now, however, is Ragtime. A month and a half till previews. It's gonna be good, and it's gonna win
Tonys
, and it's gonna outrun Bye Bye Birdie. Because it just is.
Wait, stop the presses. I've just realized something. It's September 12! IT'S FRANK MILLS DAY - the day Crissy met Frank Mills, before she subsequently lost his address! How appropriate that Miss Case should be making her return tonight. It's a good day. Sorry that this picture of her is so absolutely MASSIVE.

So, friends, I'm taking an opera/musical theatre class this year. The very first thing the girls asked me, before I had even set my books down, was whether or not I had been at the closing of Spring Awakening. When I said yes, they nodded to each other knowingly and asked who my favorite actress was. I said Alice Ripley. This time, they smiled and asked what my name was. I think I passed the test. We've only had three classes, but it's going swimmingly. Taking a class that begins with a question about Spring Awakening constitutes a good year in my book. I'm also required to see an opera in the fall and a musical in the spring. I've never been to the opera. It's really sad. But I'm more excited for it than I thought I would be. I want to see Madame Butterfly, but I think we're either going for Tosca or Turandot.

It has come to my attention that I've had visitors from New Zealand and Germany. Wilkommen, bienvenue, welcome! I always really wanted to go to Berlin. And Amsterdam, actually, but we haven't had any Dutch visitors as of yet. I dream of the day.
There's more to say, and there are
Broadwaysecrets
to share, but it's all stuff I just don't feel like saying right now. So I'm off.